#include "windows.h"
#include "stdio.h"
#include "resource.h"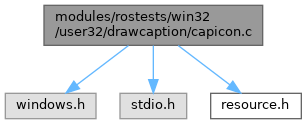 Go to the source code of this file.
◆ wmain()
◆ WndProc()
◆ hInst
◆ testnum
◆ WndClass
WCHAR WndClass[] = L"capicon_class"
Definition at line 23 of file capicon.c.
Referenced by _tWinMain(), capCreateCaptureWindowW(), ImageView_CreateWindow(), RegisterClassExA(), RegisterClassExWOWW(), RegisterConWndClass(), RegisterHexEditorClass(), RegisterIMEClass(), RegisterSystemControls(), RegisterWinPrevClass(), SHRegisterClassW(), SHUnregisterClassesA(), SHUnregisterClassesW(), START_TEST(), WinMain(), and wmain().