#include <hal.h>
#include <debug.h>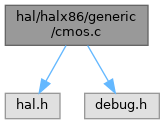 Go to the source code of this file.
◆ NDEBUG
◆ _Requires_lock_held_()
Definition at line 26 of file cmos.c.
#define CMOS_CONTROL_PORT
#define READ_PORT_UCHAR(p)
#define WRITE_PORT_UCHAR(p, d)
◆ HalGetEnvironmentVariable()
◆ HalpGetCmosData()
◆ HalpInitializeCmos()
Definition at line 163 of file cmos.c.
ASSERT((InvokeOnSuccess||InvokeOnError||InvokeOnCancel) ?(CompletionRoutine !=NULL) :TRUE)
UCHAR HalpCmosCenturyOffset
Referenced by HalInitSystem().
◆ HalpSetCmosData()
◆ HalQueryRealTimeClock()
◆ HalSetEnvironmentVariable()
◆ HalSetRealTimeClock()
◆ HalpCmosCenturyOffset
UCHAR HalpCmosCenturyOffset