#include "precomp.h"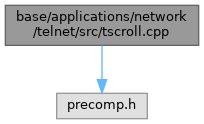 Go to the source code of this file.
int 
DummyStripBuffer (char *start, char *end, int width)
 
static BOOL 
WriteConsoleOutputCharAndAttribute (HANDLE hConsoleOutput, CHAR *lpWriteBuffer, WORD wAttrib, SHORT sX, SHORT sY)
 
static void 
hexify (int x, char *str, int len)
 
static int 
setmaxlines (int iDisplay, int iScrollSize, int strippedlines, int con_width)
 
static void 
setstatusline (char *szStatusLine, int len, int iDisplay)
 
◆ anonymous enum
Enumerator
HEX 
DUMP 
DUMPB 
TEXTB 
Definition at line 43 of file tscroll.cpp.
◆ DummyStripBuffer()
◆ hexify()
Definition at line 130 of file tscroll.cpp.
Referenced by TScroller::ScrollBack().
GLenum GLclampf GLint GLenum GLuint GLenum GLenum GLsizei GLenum const GLvoid GLfloat GLfloat GLfloat GLfloat GLclampd GLint GLbyte GLbyte GLbyte GLdouble GLdouble GLdouble GLfloat GLfloat GLfloat GLint GLint GLint GLshort GLshort GLshort GLubyte GLubyte GLubyte GLuint GLuint GLuint GLushort GLushort GLushort GLbyte GLbyte GLbyte GLbyte GLdouble GLdouble GLdouble GLdouble GLfloat GLfloat GLfloat GLfloat GLint GLint GLint GLint GLshort GLshort GLshort GLshort GLubyte GLubyte GLubyte GLubyte GLuint GLuint GLuint GLuint GLushort GLushort GLushort GLushort GLboolean GLboolean GLboolean GLboolean GLint GLenum GLsizei const GLvoid GLenum GLint GLenum GLint GLint GLsizei GLint GLenum GLint GLint GLint GLint GLsizei GLenum GLsizei const GLuint GLboolean GLenum GLenum GLint GLsizei GLenum GLsizei GLenum const GLvoid GLboolean const GLboolean GLenum const GLdouble const GLfloat const GLdouble const GLfloat GLenum GLint GLint GLint GLint GLint GLint j
◆ setmaxlines()
◆ setstatusline()
◆ WriteConsoleOutputCharAndAttribute()