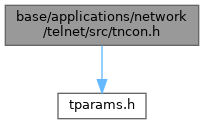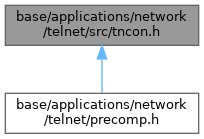 Go to the source code of this file.
◆ anonymous enum
◆ anonymous enum
Enumerator
TNNOCON 
TNPROMPT 
TNSCROLLBACK 
TNSPAWN 
TNDONE 
Definition at line 14 of file tncon.h.
◆ ControlEventHandler()
Definition at line 357 of file tncon.cpp.
363 default:
365 }
366}
bool get_control_break_as_c() const
int WriteString(const char *str, const int length)
Referenced by Telnet::Open().
◆ scrollkeys()
◆ setTNetwork()
◆ telProcessConsole()