#include <process.h>
#include <windows.h>
#include <stdio.h>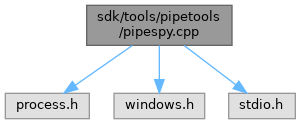 Go to the source code of this file.
◆ READ_OVERLAPPED
◆ anonymous enum
Enumerator
PIPEBUF_INITIAL_SIZE 
PIPEBUF_MAX_SIZE 
Definition at line 52 of file pipespy.cpp.
◆ dumphex()
◆ main()
◆ pipeserver()
◆ ReadPipeCompletion()
◆ WritePipeCompletion()
Definition at line 65 of file pipespy.cpp.
69
printf
(
lpOverlapped
->hEvent ?
"Server> Error %u writing to client pipe\n"
:
"Client> Error %u writing to server pipe\n"
, dwErrorCode);
void WINAPI EnterCriticalSection(LPCRITICAL_SECTION)
_In_ HANDLE _In_ DWORD _In_ DWORD _Inout_opt_ LPOVERLAPPED lpOverlapped
CRITICAL_SECTION g_OutputLock
void WINAPI LeaveCriticalSection(LPCRITICAL_SECTION)
Referenced by ReadPipeCompletion().
◆ g_DebugClientPipe
◆ g_DebugServerPipe
◆ g_OutputLock