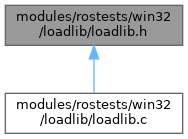 Go to the source code of this file.
◆ dprintf()
◆ getinput()
Definition at line 59 of file loadlib.c.
BOOL WINAPI DECLSPEC_HOTPATCH ReadConsoleA(IN HANDLE hConsoleInput, OUT LPVOID lpBuffer, IN DWORD nNumberOfCharsToRead, OUT LPDWORD lpNumberOfCharsRead, IN PCONSOLE_READCONSOLE_CONTROL pInputControl OPTIONAL)
GLenum GLuint GLenum GLsizei const GLchar * buf
Referenced by main().
◆ ReportLastError()
Definition at line 15 of file sc.c.
Referenced by Control(), Create(), Delete(), EnumDepend(), EnumServices(), GetDisplayName(), GetKeyName(), LoadLibraryList(), QueryConfig(), QueryDescription(), QueryFailure(), QueryService(), SdSet(), SdShow(), SetConfig(), SetDescription(), SetFailure(), and Start().
◆ debug_flagged
◆ loop_flagged
◆ recursive_flagged
◆ verbose_flagged