#include <windows.h>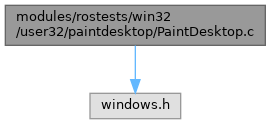 Go to the source code of this file.
◆ WIN32_LEAN_AND_MEAN
◆ InitInstance()
◆ MyRegisterClass()
◆ WndProc()
◆ wWinMain()
This file has no copyright assigned and is placed in the Public Domain. This file is part of the w64 mingw-runtime package. No warranty is given; refer to the file DISCLAIMER.PD within this package.
Definition at line 25 of file PaintDesktop.c.
◆ hInst
◆ szTitle
| | |
| --- | --- |
| PWSTR szTitle = L"PaintDesktop" | static |
◆ szWindowClass
| | |
| --- | --- |
| PWSTR szWindowClass = L"PAINTDESKTOP" | static |