#include <windows.h>
#include <stdio.h>
#include "resource.h"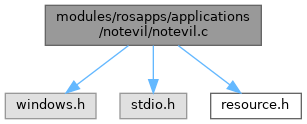 Go to the source code of this file.
◆ RES_BUFFER_SIZE
◆ RES_DELAY_CHANGE
◆ DisplayTitle()
◆ GetNextString()
Definition at line 87 of file notevil.c.
int WINAPI LoadStringW(_In_opt_ HINSTANCE hInstance, _In_ UINT uID, _Out_writes_to_(cchBufferMax, return+1) LPWSTR lpBuffer, _In_ int cchBufferMax)
_In_ WDFCOLLECTION _In_ ULONG Index
_In_ WDFMEMORY _Out_opt_ size_t * BufferSize
Referenced by MainLoop().
◆ MainLoop()
◆ wmain()
◆ WriteStringAt()
◆ app_name
◆ myself
◆ ScreenBuffer
Definition at line 37 of file notevil.c.
Referenced by ConDrvReadConsoleOutput(), ConDrvScrollConsoleScreenBuffer(), ConDrvWriteConsole(), ConDrvWriteConsoleOutput(), ConDrvWriteConsoleOutputVDM(), ConioCopyRegion(), ConioFillRegion(), ConioResizeBuffer(), ConSrvTermReleaseScreenBuffer(), ConSrvTermSetCursorInfo(), ConSrvTermSetScreenInfo(), CreatePopupWindow(), DoWriteConsole(), GuiReleaseScreenBuffer(), SetActiveScreenBuffer(), TuiEditBox(), TuiMessageBox(), wmain(), and WriteStringAt().
◆ ScreenBufferInfo
◆ WaitableTimer