#include <ntoskrnl.h>
#include <debug.h>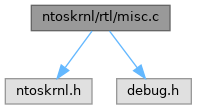 Go to the source code of this file.
◆ NDEBUG
◆ PRODUCT_TAG
◆ RtlGetNtGlobalFlags()
◆ RtlGetNtProductType()
Retrieves the NT type product of the operating system. This is the kernel-mode variant of this function.
Parameters

| | | |
| --- | --- | --- |
| [out] | ProductType | The NT type product enumeration value returned by the call. |
Returns

The function returns TRUE when the call successfully returned the type product of the system. It'll return FALSE on failure otherwise. In the latter case the function will return WinNT as the default product type.
Definition at line 87 of file misc.c.
◆ RtlGetVersion()
◆ RtlPrefetchMemoryNonTemporal()
◆ NtGlobalFlag
Definition at line 54 of file init.c.
Referenced by AVrfDllLoadNotification(), AVrfDllUnloadNotification(), ExpInitializeExecutive(), KdDebuggerInitialize1(), KdpReport(), MiLoadImageSection(), MmCreatePeb(), MmLoadSystemImage(), ObReferenceFileObjectForWrite(), QSI_DEF(), RtlGetNtGlobalFlags(), RtlSetProcessIsCritical(), RtlSetThreadIsCritical(), SSI_DEF(), and STRUCT().
◆ NtMajorVersion
◆ NtMinorVersion
◆ NtOSCSDVersion