#include <stdlib.h>
#include <string.h>
#include "error_private.h"
#include "zstd_internal.h"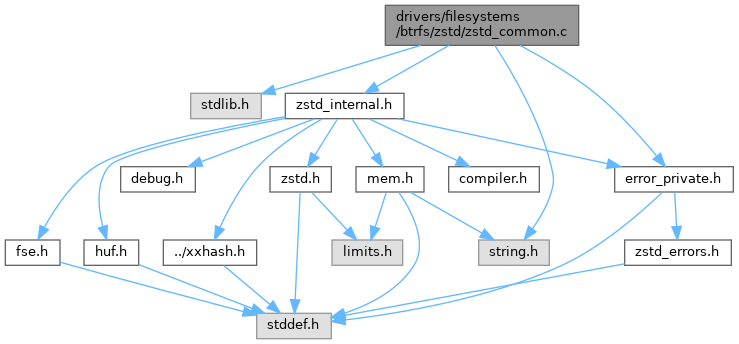 Go to the source code of this file.
◆ ZSTD_calloc()
◆ ZSTD_free()
Definition at line 70 of file zstd_common.c.
73
  customMem.customFree(customMem.opaque,
ptr
);
Referenced by ZSTD_clearAllDicts(), ZSTD_createCDict_advanced(), ZSTD_cwksp_free(), ZSTD_decompressStream(), ZSTD_freeCCtx(), ZSTD_freeCCtxParams(), ZSTD_freeCDict(), ZSTD_freeDCtx(), ZSTD_freeDDict(), and ZSTD_getSequences().
◆ ZSTD_getErrorCode()
ZSTD_getError() : convert a size_t function result into a proper ZSTD_errorCode enum
Definition at line 45 of file zstd_common.c.
ERR_STATIC ERR_enum ERR_getErrorCode(size_t code)
Referenced by ZSTD_decompressMultiFrame().
◆ ZSTD_getErrorName()
◆ ZSTD_getErrorString()
◆ ZSTD_isError()
ZSTD_isError() : tells if a return value is an error code symbol is required for external callers
Definition at line 37 of file zstd_common.c.
ERR_STATIC unsigned ERR_isError(size_t code)
◆ ZSTD_malloc()
◆ ZSTD_versionNumber()
to check runtime library version
Definition at line 25 of file zstd_common.c.
#define ZSTD_VERSION_NUMBER
◆ ZSTD_versionString()