#include <ft2build.h>
#include "ftcmru.h"
#include "ftccache.h"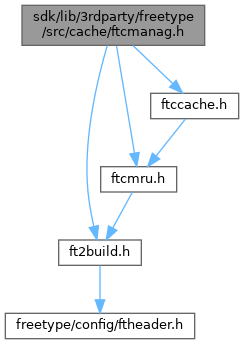 Go to the source code of this file.
◆ FTC_MAX_BYTES_DEFAULT
◆ FTC_MAX_CACHES
◆ FTC_MAX_FACES_DEFAULT
#define FTC_MAX_FACES_DEFAULT   2
◆ FTC_MAX_SIZES_DEFAULT
#define FTC_MAX_SIZES_DEFAULT   4
◆ FTC_SCALER_COMPARE
Value:
GLboolean GLboolean GLboolean b
GLboolean GLboolean GLboolean GLboolean a
Definition at line 154 of file ftcmanag.h.
◆ FTC_SCALER_HASH
Value:
#define FTC_FACE_ID_HASH(i)
Definition at line 163 of file ftcmanag.h.
◆ FTC_ManagerRec
◆ FTC_Manager_Compress()
◆ FTC_Manager_FlushN()
◆ FTC_Manager_RegisterCache()