#include <windows.h>
#include <string.h>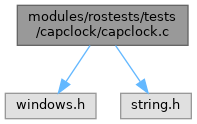 Go to the source code of this file.
static INT_PTR CALLBACK 
DialogFunc (HWND, UINT, WPARAM, LPARAM)
 
static VOID CALLBACK 
TimerProc (HWND, UINT, UINT_PTR, DWORD)
 
INT WINAPI 
WinMain (HINSTANCE hinst, HINSTANCE hinstPrev, LPSTR lpCmdLine, INT nCmdShow)
 
static int 
InitializeApp (HWND hDlg, WPARAM wParam, LPARAM lParam)
 
◆ DialogFunc()
◆ InitializeApp()
Definition at line 32 of file capclock.c.
static VOID CALLBACK TimerProc(HWND, UINT, UINT_PTR, DWORD)
UINT_PTR WINAPI SetTimer(_In_opt_ HWND, _In_ UINT_PTR, _In_ UINT, _In_opt_ TIMERPROC)
Referenced by DialogFunc().
◆ TimerProc()
◆ WinMain()
◆ Timer
Definition at line 11 of file capclock.c.
Referenced by $endif(), AcpiExDoDebugObject(), ClockUpdate(), CreateHardwareTimer(), ExpTimerApcKernelRoutine(), ExpWorkerThreadBalanceManager(), ExTimerRundown(), IoDeleteDevice(), IopTimerDispatch(), KeDelayExecutionThread(), KeInitThread(), KeSetSystemTime(), KiCheckTimerTable(), KiInsertQueue(), KiTimerExpiration(), KiTimerListExpire(), KiUnlinkThread(), MsfsRead(), NdisMSetPeriodicTimer(), NdisMSetTimer(), NdisMSleep(), NtCancelTimer(), NtCreateTimer(), NtQueryTimer(), NtSetTimer(), RtlDeleteTimer(), RtlUpdateTimer(), SetTimerQueueTimer(), START_TEST(), and Wait().