#include <ntoskrnl.h>
#include <cache/section/newmm.h>
#include <debug.h>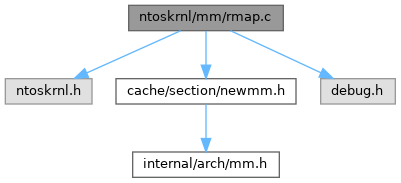 Go to the source code of this file.
◆ NDEBUG
◆ _IRQL_requires_max_()
Definition at line 25 of file rmap.c.
#define ExFreePoolWithTag(_P, _T)
◆ MmDeleteRmap()
◆ MmDeleteSectionAssociation()
◆ MmGetSegmentRmap()
◆ MmInitializeRmapList()
Definition at line 38 of file rmap.c.
VOID NTAPI ExInitializeNPagedLookasideList(IN PNPAGED_LOOKASIDE_LIST Lookaside, IN PALLOCATE_FUNCTION Allocate OPTIONAL, IN PFREE_FUNCTION Free OPTIONAL, IN ULONG Flags, IN SIZE_T Size, IN ULONG Tag, IN USHORT Depth)
static NPAGED_LOOKASIDE_LIST RmapLookasideList
Referenced by MmInitSystem().
◆ MmInsertRmap()
◆ MmPageOutPhysicalAddress()
◆ RmapLookasideList