#include <hal.h>
#include <debug.h>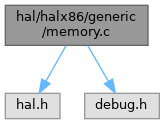 Go to the source code of this file.
◆ MM_HAL_HEAP_START
◆ NDEBUG
◆ HalpAllocPhysicalMemory()
◆ HalpMapPhysicalMemory64()
Definition at line 140 of file memory.c.
PVOID NTAPI HalpMapPhysicalMemory64Vista(IN PHYSICAL_ADDRESS PhysicalAddress, IN PFN_COUNT PageCount, IN BOOLEAN FlushCurrentTLB)
_Must_inspect_result_ typedef _In_ PHYSICAL_ADDRESS PhysicalAddress
◆ HalpMapPhysicalMemory64Vista()
◆ HalpUnmapVirtualAddress()
Definition at line 148 of file memory.c.
VOID NTAPI HalpUnmapVirtualAddressVista(IN PVOID VirtualAddress, IN PFN_COUNT PageCount, IN BOOLEAN FlushCurrentTLB)
_Must_inspect_result_ _In_ WDFDMATRANSACTION _In_ PFN_WDF_PROGRAM_DMA _In_ WDF_DMA_DIRECTION _In_ PMDL _In_ PVOID VirtualAddress
◆ HalpUnmapVirtualAddressVista()
◆ HalpAllocationDescriptorArray
◆ HalpHeapStart
◆ HalpUsedAllocDescriptors
ULONG HalpUsedAllocDescriptors