#include <cportlib/cportlib.h>
#include <drivers/serial/ns16550.h>
#include <intrin.h>
#include <ioaccess.h>
#include <ntstatus.h>
#include <debug.h>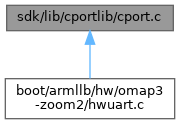 Go to the source code of this file.
◆ NDEBUG
◆ TIMEOUT_COUNT
◆ ComPortTest1()
◆ ComPortTest2()
◆ CpDoesPortExist()
◆ CpEnableFifo()
Definition at line 54 of file cport.c.
#define SERIAL_FCR_DISABLE
_In_ ULONGLONG _In_ ULONGLONG _In_ BOOLEAN Enable
#define SERIAL_FCR_ENABLE
#define SERIAL_FCR_RCVR_RESET
#define FIFO_CONTROL_REGISTER
#define SERIAL_FCR_TXMT_RESET
void WRITE_PORT_UCHAR(PUCHAR Address, UCHAR Value)
Referenced by CpInitialize(), InbvPortEnableFifo(), and WinLdrEnableFifo().
◆ CpGetByte()
◆ CpInitialize()
◆ CpPutByte()
◆ CpReadLsr()
◆ CpSetBaud()
◆ RingIndicator