#include <ntdef.h>
#include <ntifs.h>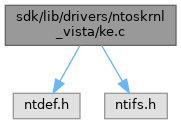 Go to the source code of this file.
◆ _IRQL_requires_max_()
Definition at line 45 of file ke.c.
BOOLEAN NTAPI KeSetTimerEx(IN OUT PKTIMER Timer, IN LARGE_INTEGER DueTime, IN LONG Period, IN PKDPC Dpc OPTIONAL)
_Must_inspect_result_ _In_ PWDF_DPC_CONFIG _In_ PWDF_OBJECT_ATTRIBUTES _Out_ WDFDPC * Dpc
_In_ WDFTIMER _In_ LONGLONG DueTime
_In_ LARGE_INTEGER _In_ ULONG Period
◆ KeGetCurrentNodeNumber()
◆ KeQueryActiveProcessorCount()
Definition at line 15 of file ke.c.
20
if
(ActiveProcessors !=
NULL
)
22
*ActiveProcessors = ActiveMap;
NTSYSAPI void WINAPI RtlInitializeBitMap(PRTL_BITMAP, PULONG, ULONG)
NTSYSAPI ULONG WINAPI RtlNumberOfSetBits(PCRTL_BITMAP)
KAFFINITY NTAPI KeQueryActiveProcessors(VOID)
◆ KeQueryHighestNodeNumber()