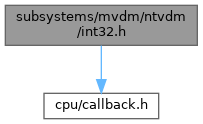 Go to the source code of this file.
◆ EMULATOR_MAX_INT32_NUM
◆ Int16To32StubSize
◆ STACK_CS
◆ STACK_FLAGS
◆ STACK_INT_NUM
◆ STACK_IP
◆ EMULATOR_INT32_PROC
◆ InitializeInt32()
Definition at line 194 of file int32.c.
VOID RegisterBop(BYTE BopCode, EMULATOR_BOP_PROC BopHandler)
static VOID WINAPI ControlBop(LPWORD Stack)
Referenced by EmulatorInitialize().
◆ Int32Call()
*Trampoline++ = 0x90; // nop
Definition at line 151 of file int32.c.
Referenced by BiosCharPrint(), BiosKeyboardIrq(), BiosPs2Service(), BiosTimerIrq(), ConDrvInputStatus(), ConDrvReadInput(), ConDrvWriteOutput(), Dem_BiosCharPrint(), DosControlBreak(), DosFastConOut(), and VbeService().
◆ RegisterInt16()
◆ RegisterInt32()