#include <hal.h>
#include <debug.h>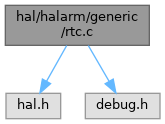 Go to the source code of this file.
◆ NDEBUG
◆ RTC_DATA
◆ HalGetEnvironmentVariable()
◆ HalQueryRealTimeClock()
Definition at line 24 of file rtc.c.
31
32
34
35
38}
#define READ_REGISTER_ULONG(r)
BOOLEAN RtlTimeToTimeFields(IN PLARGE_INTEGER Time, IN PTIME_FIELDS TimeFields)
static PLARGE_INTEGER Time
NTSYSAPI VOID NTAPI RtlSecondsSince1970ToTime(_In_ ULONG SecondsSince1970, _Out_ PLARGE_INTEGER Time)
Referenced by ExpSetTimeZoneInformation(), and Phase1InitializationDiscard().
◆ HalSetEnvironmentVariable()
◆ HalSetRealTimeClock()