#include "precomp.h"
#include <debug.h>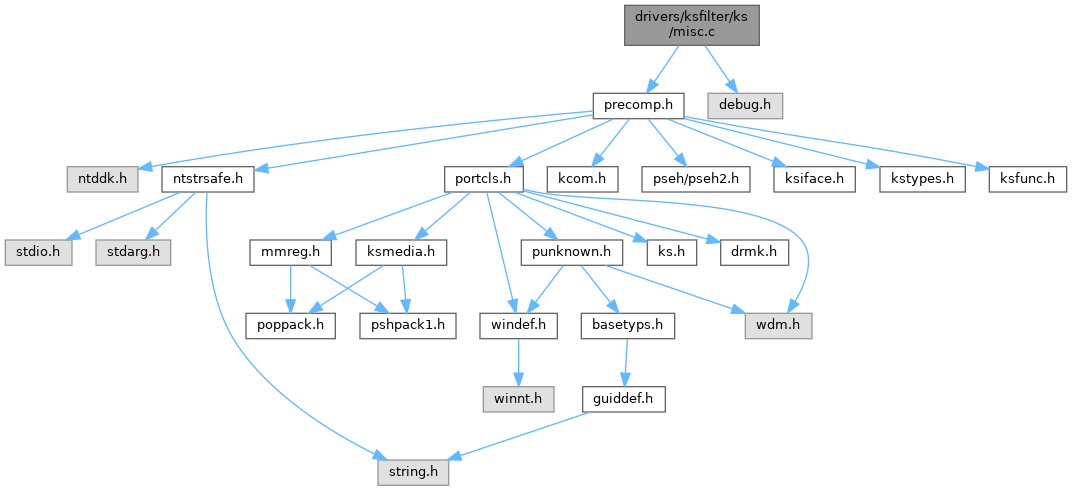 Go to the source code of this file.
◆ NDEBUG
◆ TAG_KS
◆ AllocateItem()
Definition at line 30 of file misc.c.
#define ExAllocatePoolWithTag(hernya, size, tag)
_Must_inspect_result_ typedef _In_ PHYSICAL_ADDRESS _Inout_ PLARGE_INTEGER NumberOfBytes
_In_ WDFCOLLECTION _In_ WDFOBJECT Item
_Must_inspect_result_ _In_ WDFDEVICE _In_ DEVICE_REGISTRY_PROPERTY _In_ _Strict_type_match_ POOL_TYPE PoolType
#define RtlZeroMemory(Destination, Length)
Referenced by KspCopyCreateRequest(), USBSTOR_ClassRequest(), and USBSTOR_GetMaxLUN().
◆ CompleteRequest()
Definition at line 17 of file misc.c.
_In_ WDFREQUEST _In_ NTSTATUS _In_ CCHAR PriorityBoost
#define IoCompleteRequest
◆ FreeItem()
◆ KsGetObjectFromFileObject()
Definition at line 94 of file misc.c.
struct KSIOBJECT_HEADER * PKSIOBJECT_HEADER
_In_ WDFREQUEST _In_ WDFFILEOBJECT FileObject
◆ KsGetObjectTypeFromFileObject()
Definition at line 112 of file misc.c.
120
return
ObjectHeader->
Type
;
struct KSIOBJECT_HEADER * PKSIOBJECT_HEADER
_In_ WDFREQUEST _In_ WDFFILEOBJECT FileObject
◆ KsGetObjectTypeFromIrp()
◆ KsGetOuterUnknown()
◆ KsGetParent()
◆ KspCopyCreateRequest()