#include <ntddk.h>
#include <portcls.h>
#include <debug.h>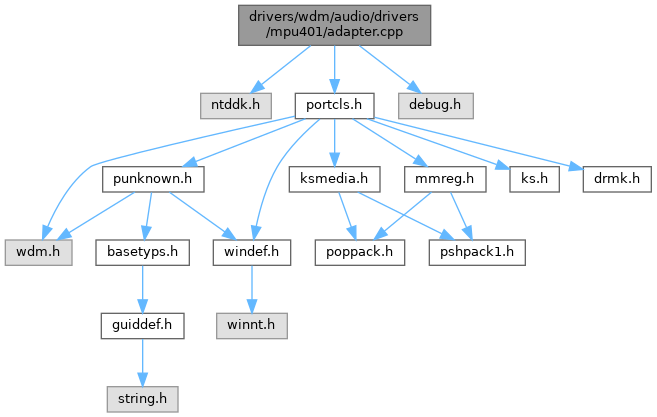 Go to the source code of this file.
◆ INITGUID
◆ MAX_MINIPORTS
◆ PUT_GUIDS_HERE
◆ AddDevice()
Definition at line 92 of file adapter.cpp.
96
DPRINT1
(
"MPU401_KS AddDevice called\n"
);
NTSTATUS NTAPI PcAddAdapterDevice(IN PDRIVER_OBJECT DriverObject, IN PDEVICE_OBJECT PhysicalDeviceObject, IN PCPFNSTARTDEVICE StartDevice, IN ULONG MaxObjects, IN ULONG DeviceExtensionSize)
PDEVICE_OBJECT PhysicalDeviceObject
static BOOL StartDevice(IN HDEVINFO DeviceInfoSet, IN PSP_DEVINFO_DATA DevInfoData OPTIONAL, IN BOOL bEnable, IN DWORD HardwareProfile OPTIONAL, OUT BOOL *bNeedReboot OPTIONAL)
NTSTATUS(NTAPI * PCPFNSTARTDEVICE)(IN PDEVICE_OBJECT DeviceObject, IN PIRP Irp, IN PRESOURCELIST ResourceList)
_Must_inspect_result_ _In_ PDRIVER_OBJECT DriverObject
◆ DriverEntry()
Definition at line 107 of file adapter.cpp.
112
DPRINT1
(
"MPU401_KS DriverEntry\n"
);
NTSTATUS NTAPI PcInitializeAdapterDriver(IN PDRIVER_OBJECT DriverObject, IN PUNICODE_STRING RegistryPathName, IN PDRIVER_ADD_DEVICE AddDevice)
DRIVER_ADD_DEVICE AddDevice
_Must_inspect_result_ _In_ PDRIVER_OBJECT _In_ PCUNICODE_STRING RegistryPath
◆ StartDevice()
◆ DeviceName