#include <ntoskrnl.h>
#include "kd.h"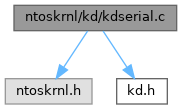 Go to the source code of this file.
◆ KdbpSendCommandSerial()
◆ KdbpTryGetCharSerial()
Definition at line 25 of file kdserial.c.
_In_ PSCSI_REQUEST_BLOCK _Out_ NTSTATUS _Inout_ BOOLEAN * Retry
BOOLEAN NTAPI KdPortGetByteEx(PCPPORT PortInformation, PUCHAR ByteReceived)
_At_(*)(_In_ PWSK_CLIENT Client, _In_opt_ PUNICODE_STRING NodeName, _In_opt_ PUNICODE_STRING ServiceName, _In_opt_ ULONG NameSpace, _In_opt_ GUID *Provider, _In_opt_ PADDRINFOEXW Hints, _Outptr_ PADDRINFOEXW *Result, _In_opt_ PEPROCESS OwningProcess, _In_opt_ PETHREAD OwningThread, _Inout_ PIRP Irp Result)(Mem)) NTSTATUS(WSKAPI *PFN_WSK_GET_ADDRESS_INFO
Referenced by KdpFlushTerminalInput(), KdpInitTerminal(), KdpReadTermKey(), and KdpUpdateTerminalSize().