#include <CProcess.h>

[legend]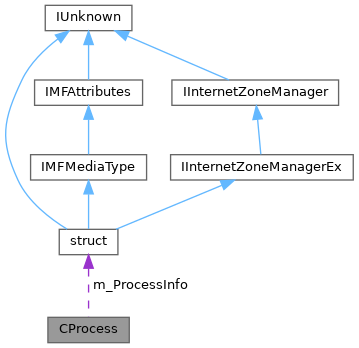 [legend]
Definition at line 8 of file CProcess.h.
◆ CProcess()
Constructs a CProcess object and uses the CreateProcessW function to start the process immediately.
Parameters

| | |
| --- | --- |
| CommandLine | A std::wstring containing the command line to run |
| StartupInfo | Pointer to a STARTUPINFOW structure containing process startup information |
Definition at line 19 of file CProcess.cpp.
23
wcscpy
(CommandLinePtr, CommandLine.c_str());
PROCESS_INFORMATION m_ProcessInfo
BOOL WINAPI DECLSPEC_HOTPATCH CreateProcessW(LPCWSTR lpApplicationName, LPWSTR lpCommandLine, LPSECURITY_ATTRIBUTES lpProcessAttributes, LPSECURITY_ATTRIBUTES lpThreadAttributes, BOOL bInheritHandles, DWORD dwCreationFlags, LPVOID lpEnvironment, LPCWSTR lpCurrentDirectory, LPSTARTUPINFOW lpStartupInfo, LPPROCESS_INFORMATION lpProcessInformation)
#define TESTEXCEPTION(Message)
_CRTIMP wchar_t *__cdecl wcscpy(_Out_writes_z_(_String_length_(_Source)+1) wchar_t *_Dest, _In_z_ const wchar_t *_Source)
#define NORMAL_PRIORITY_CLASS
◆ ~CProcess()
Destructs a CProcess object, terminates the process if running, and closes all handles belonging to the process.
Definition at line 32 of file CProcess.cpp.
BOOL WINAPI TerminateProcess(IN HANDLE hProcess, IN UINT uExitCode)
◆ GetProcessHandle()
| | | | | |
| --- | --- | --- | --- | --- |
| HANDLE CProcess::GetProcessHandle | ( | | ) | const |

inline
◆ m_ProcessInfo
---
The documentation for this class was generated from the following files: