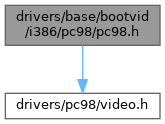 Go to the source code of this file.
◆ BYTES_PER_SCANLINE
◆ FB_OFFSET
◆ DisplayCharacter()
◆ DoScroll()
◆ InitPaletteWithTable()
◆ PrepareForSetPixel()
Definition at line 81 of file vga.c.
static VOID NTAPI ReadWriteMode(_In_ UCHAR Mode)
#define GRAPH_ADDRESS_PORT
◆ PreserveRow()
◆ SetPixel()
Definition at line 57 of file pc98.h.
NTKERNELAPI VOID NTAPI WRITE_REGISTER_UCHAR(IN PUCHAR Register, IN UCHAR Value)
◆ FrameBuffer
Definition at line 28 of file xboxvideo.c.
Referenced by DoScroll(), PreserveRow(), SetPixel(), VidInitialize(), VidResetDisplay(), VidScreenToBufferBlt(), VidSolidColorFill(), XboxVideoClearScreenColor(), XboxVideoInit(), XboxVideoOutputChar(), and XboxVideoScrollUp().