#include <hal.h>
#include <debug.h>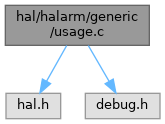 Go to the source code of this file.
◆ NDEBUG
◆ HalpEnableInterruptHandler()
Definition at line 49 of file usage.c.
ACPI_PHYSICAL_ADDRESS ACPI_SIZE BOOLEAN Warn BOOLEAN Physical UINT32 ACPI_TABLE_HEADER *OutTableHeader ACPI_TABLE_HEADER **OutTable ACPI_HANDLE UINT32 ACPI_WALK_CALLBACK ACPI_WALK_CALLBACK void void **ReturnValue UINT32 ACPI_BUFFER *RetPathPtr ACPI_OBJECT_HANDLER Handler
Referenced by HalInitSystem(), HalpInitPhase0(), and HalpInitPhase1().
◆ HalpRegisterVector()
◆ HalpReportResourceUsage()
◆ HalReportResourceUsage()
Definition at line 67 of file usage.c.
NTSYSAPI VOID NTAPI RtlInitUnicodeString(PUNICODE_STRING DestinationString, PCWSTR SourceString)
VOID NTAPI HalpReportResourceUsage(IN PUNICODE_STRING HalName, IN INTERFACE_TYPE InterfaceType)
Referenced by Phase1InitializationDiscard().
◆ HalpIDTUsage
◆ HalpIDTUsageFlags
◆ KdComPortInUse